Quick update to save any other Tarah Jaybird headphone users having problems connecting to Windows 10. This took me ages to figure out, so I'm sharing.
These two fixes worked for me – for Zoom meetings and Skype. These headphones don't work well with Windows 10 (or Windows 10 doesn't work well with them, probably more likely) but they work well with Mac and iphone. So beware.
Tarah buds frequently cutting out, stuttering audio
Don't use the default Jaybird Tarah Stereo output with Windows 10, use the low quality, mono Hands-Free AG Audio setting. It sucks but is more reliable for meetings.

Click on the audio icon that adjusts volume level in your dock
Click on the name of current playback device, which should open the drop-down to reveal options (as in image)
Click on "Headset Jaybird (Hands Free AG Audio)" to select. You should hear any audio in your headphones become mono.
Make sure you test and adjust your audio input too in Skype or Zoom. I use either the Hands Free AG Audio or the mic on my webcam.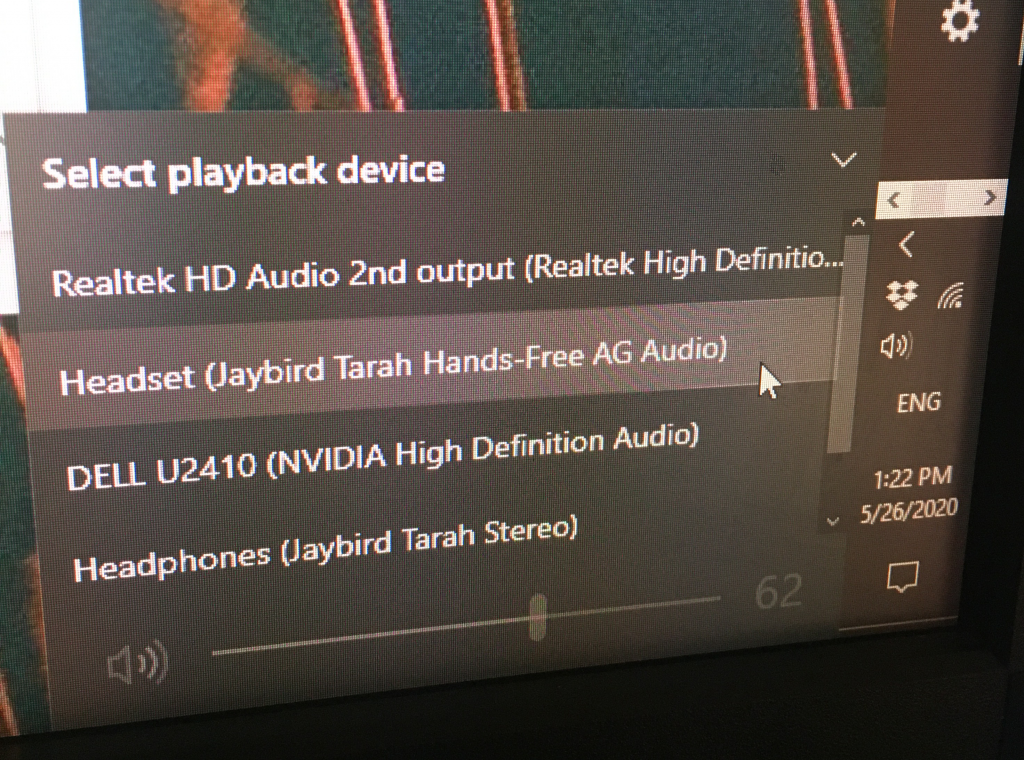 Tarah buds turn themselves off
This is when the headphones play the descending tones, and switch off unprompted. Windows is sending the command to your headphones to power down, AFAIK. Switch it off with the below.
Open Device Manager
Select Bluetooth dropdowns
Select Inte(R) Wireless Bluetooth(R), right click Properties
Select Power Management tab
UNCHECK "Allow the computer to turn off this device to save power"